When you take a photo on your iPhone, and send it via AirDrop to your mac, the can be a .heic image (or another format). But how do you convert the image to another format on your mac?
iOS 11 uses a new file format for photos and videos by default on devices that can handle it. Under the name HEIC (or HEIF) and HEVC, new compression techniques have seen the light of day in Apple's mobile operating system. Photos and videos can take up to 50% less space than .jpg and the older .H264. However, there is one problem: although HEVC (also known as .H265) is now fairly standardly supported by self-respecting video players, this is much less the case with HEIC.
Right-click on the image, and go to "Quick Actions". In the submenu, you see an option to "Convert Image".
After you pressed the "Convert Image" option, you get a new window where you can define some export settings.
After the image is converted, you can rename it directly within the finder.
And that's it, you now converted the image from HEIC to JPEG (or another file format).
There are some extra options you can define to convert the image to another format.
You can define the wanted size of the images, this will compress and possibly resize the image.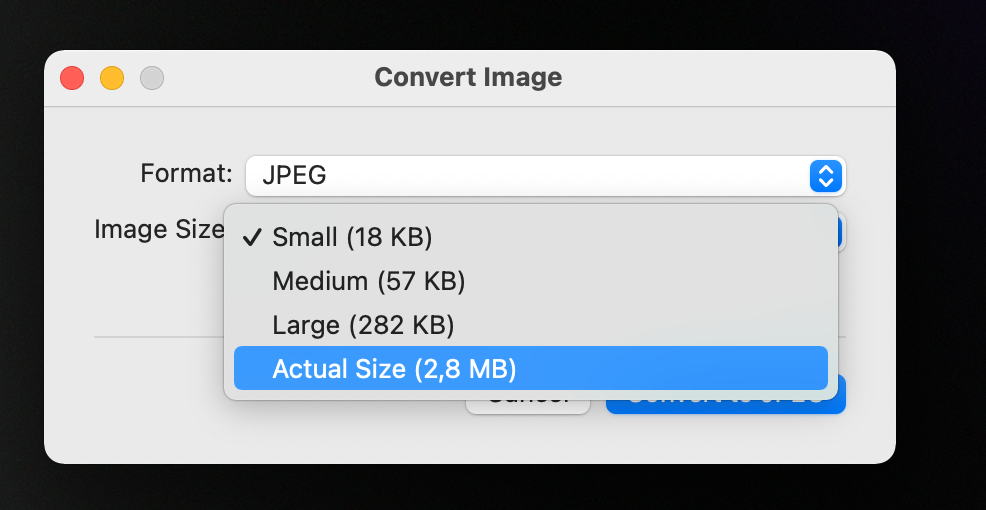 Sometimes you don't want to convert the image to the default JPEG image, so you can define the needed format. In this case, it's possible to convert the image to JPEG, PNG of HEIF.